Services
WCU Campus Store
The WCU campus store houses a complete selection of used, new, rental and eBook textbooks and reference books as well as New York Times bestsellers. We are also an Authorized Apple Campus re-seller with academic discounts and specials throughout the year as well as Dell and Toshiba.
A wide array of supplies is also available at the campus store; everything from binders to computer software is available to purchase to aid students in preparing for class. The campus store provides products to enhance life on campus including WCU clothing, posters, gifts, greeting cards, edibles, gift cards, and an assortment of essentials for daily living.
Purchases can be made by cash, check, all major credit cards, gift card, or with a WCU RAM e-CARD using Ram Bucks. In addition to regular hours, the bookstore is open to support campus events.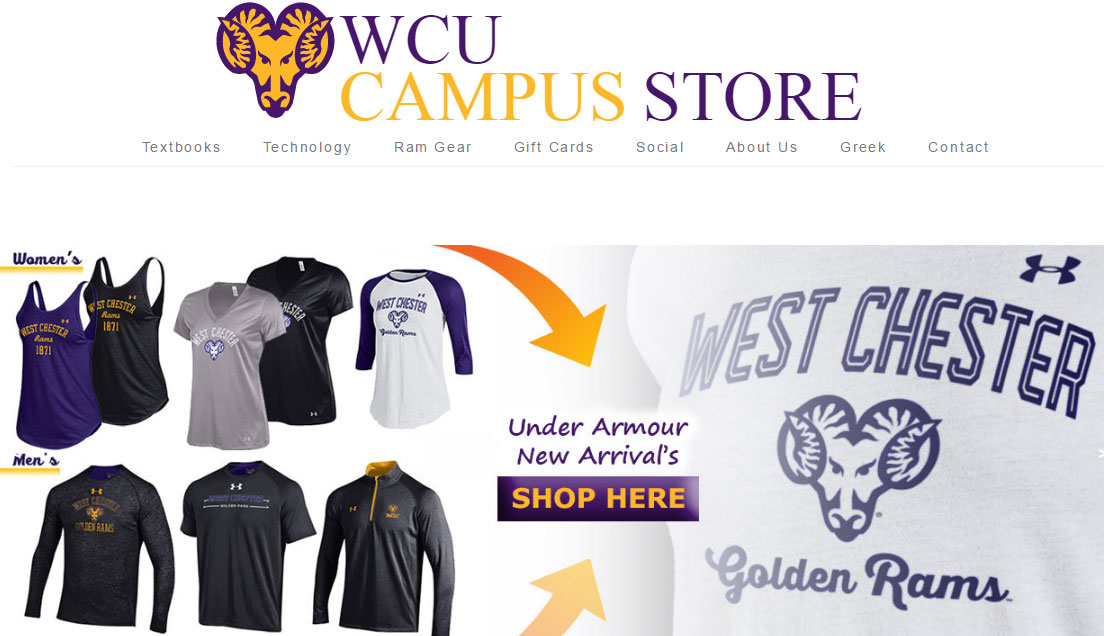 Ram E Card
The Ram E Card is the official West Chester University ID card, and so much more! A declining balance debit card, the Ram e Card can allow you to make cash-free purchases using Ram Bucks all over campus, as well as select off-campus locations.
Ram Bucks is an account that is accessed through your Ram e Card. You can never spend more than the amount on your account. With using Ram Bucks there are no worries about bounced checks, credit card bills, or interest payments. The Ram e Card also provides swipe access into the recreation center, your residence hall, and other campus events. If you're a WCU student, faculty, or staff member, you're eligible for a Ram e Card.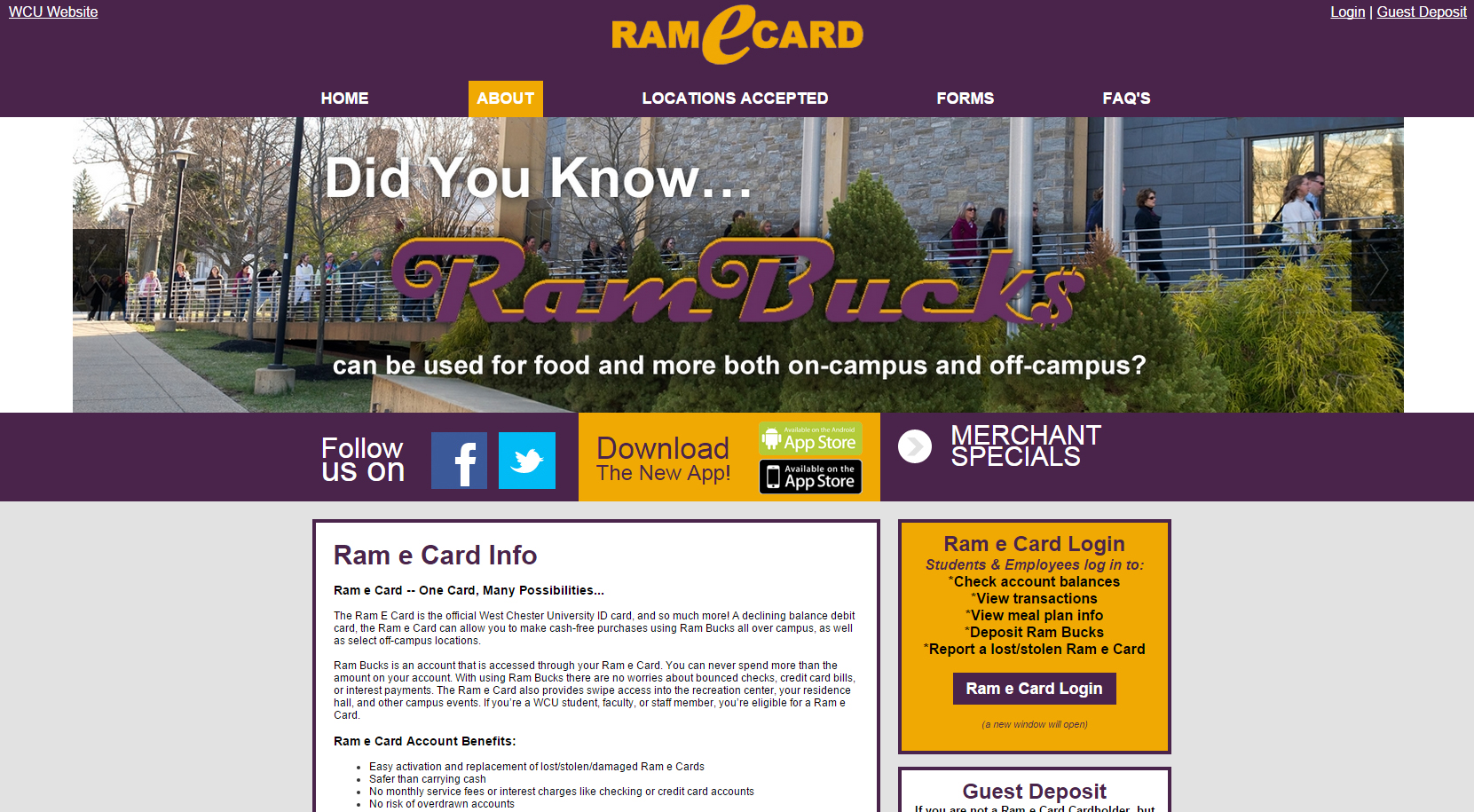 The Ram Shop
The Ram Shop proudly opened on May 1st, 2014 on the corners of High and Chestnut streets in the very heart of downtown West Chester, PA.
Our goal is to extend our presence across the beautiful historic town and online by providing the ability to shop merchandise that would allow customers, local and from afar, to represent their WCU pride in extraordinary fashion.
We hope to satisfy everyone from current WCU students, family members, alumni to local town residents and everyone in between who have been able to experience everything West Chester has to offer as a University and as a town!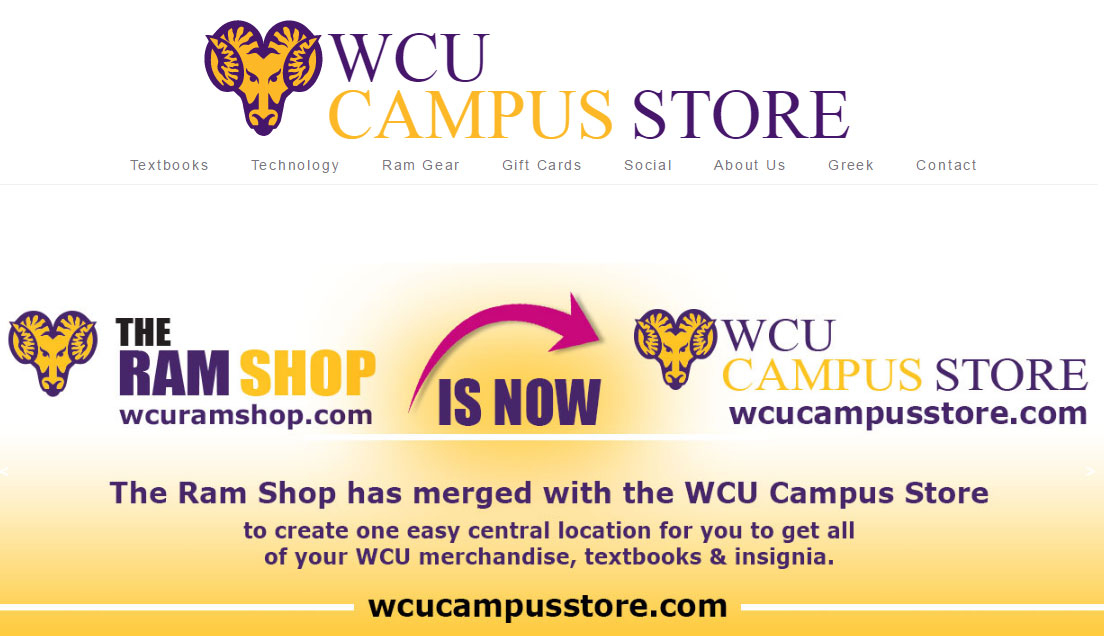 The SSI Service Center
The SSI Service Center is located on the ground level of Sykes Union, across from the SSI Bookstore. Students with a valid WCU RAM e-CARD can cash personal checks, payroll checks, and money orders. A limit of $50 is placed on all personal checks and $250 on payroll checks. There is a $0.25 check-cashing fee charged for each check cashed.
The WCU RAM e-CARD serves a number of purposes for WCU students; it is not only the student's University ID card, but it also serves as an internal debit card for on-campus purchases and services including vending, some laundry, bookstore, and food service. Students can deposit money onto their card at the WCU RAM e-CARD Service Center on the lower level of Sykes. The service center sells tickets to many on-campus events and accepts VISA, MasterCard, and Discover for ticket purchases.
The center's other services include postage stamps, SEPTA tokens, notary, passport photos, AMC and Regal movie tickets, and a fax machine. In addition, students can obtain a replacement WCU RAM e-CARD. An Automatic Teller Machine is located next to the center and allows for expanded hours of service for students' personal cash needs. There is no service fee for the use of this ATM. The student must refer to his or her own bank regarding ATM fees (fees subject to change without prior notice).
Phone

: 610-436-2266

Fax

: 610-436-3427
Website coming soon…